Did anyone catch the celebrities on the Emmy's red carpet?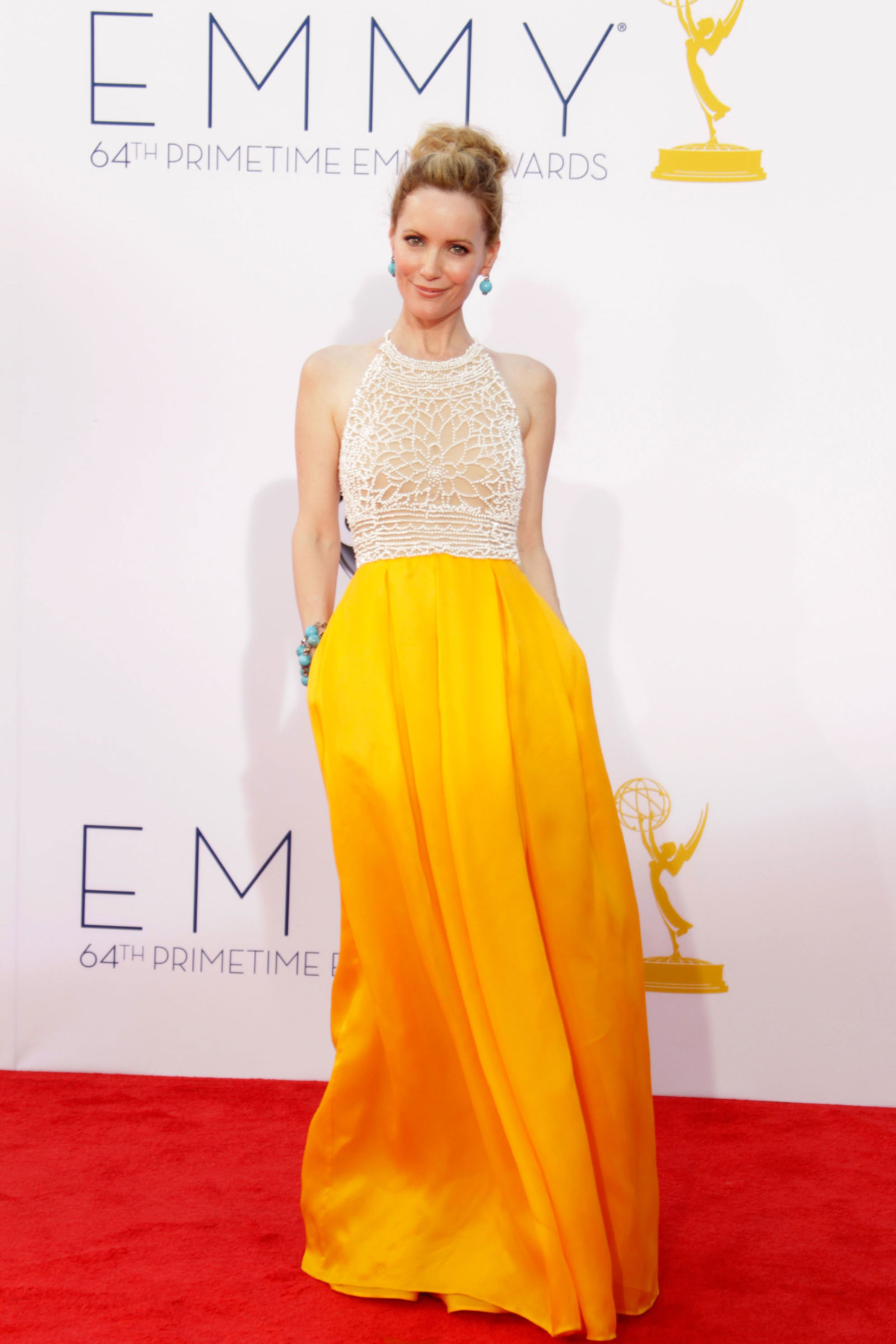 Mann, does Leslie looks so refreshed and comfortable in that dress! She found the perfect shade of golden yellow that doesn't at all clash with the red carpet.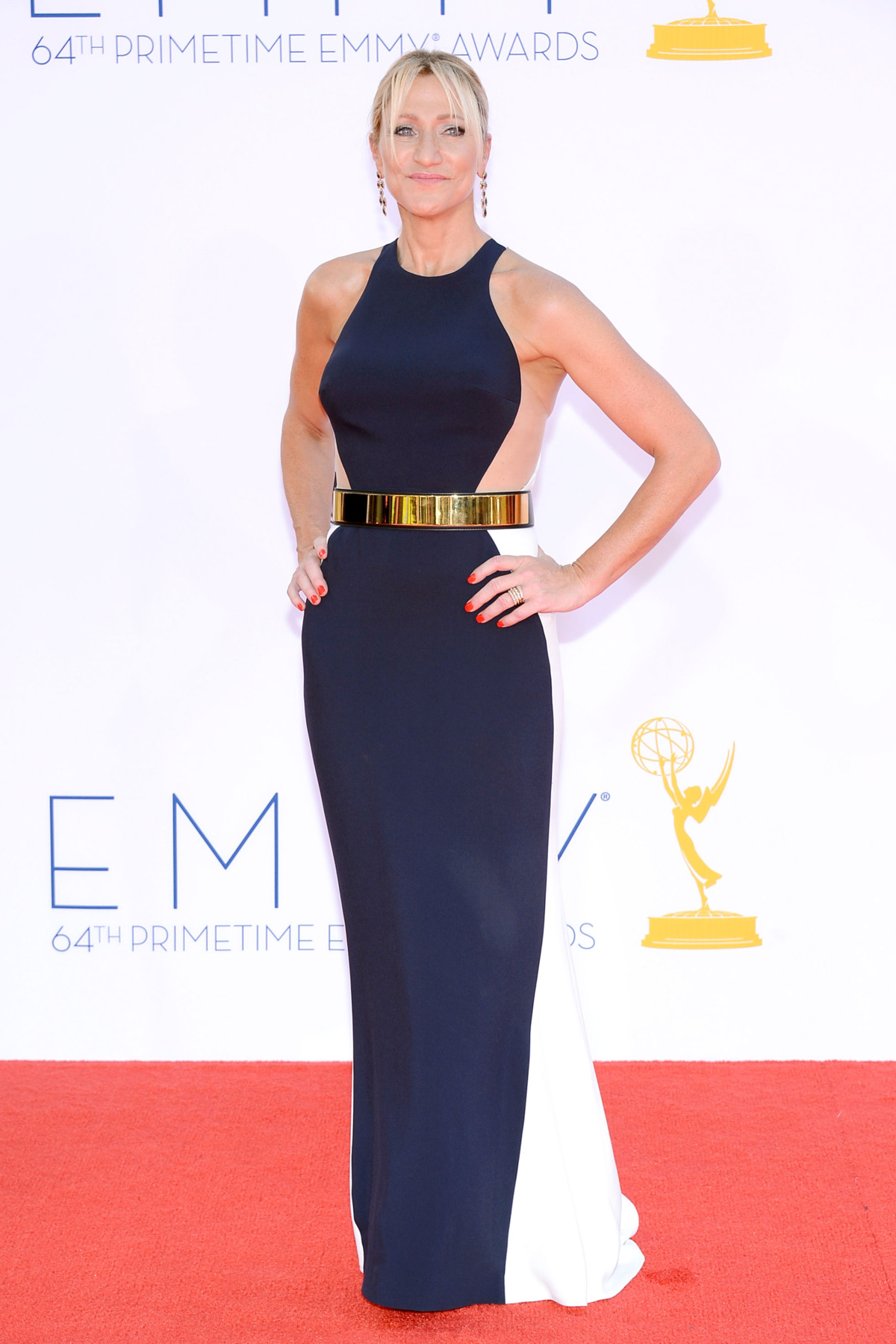 I loved Edie Falco in this silhouette defining dress. The nails are perfect and I'm glad she didn't try to find a matching color. The only thing that set it off for me was the hair. I would have preferred an updo to add one more drop of drama.
Amy Poehler looked nice and I liked that she showed cleavage in a respectable way. A body shaper beneath the dress, however, would have given her a smooth curve from bust to hip.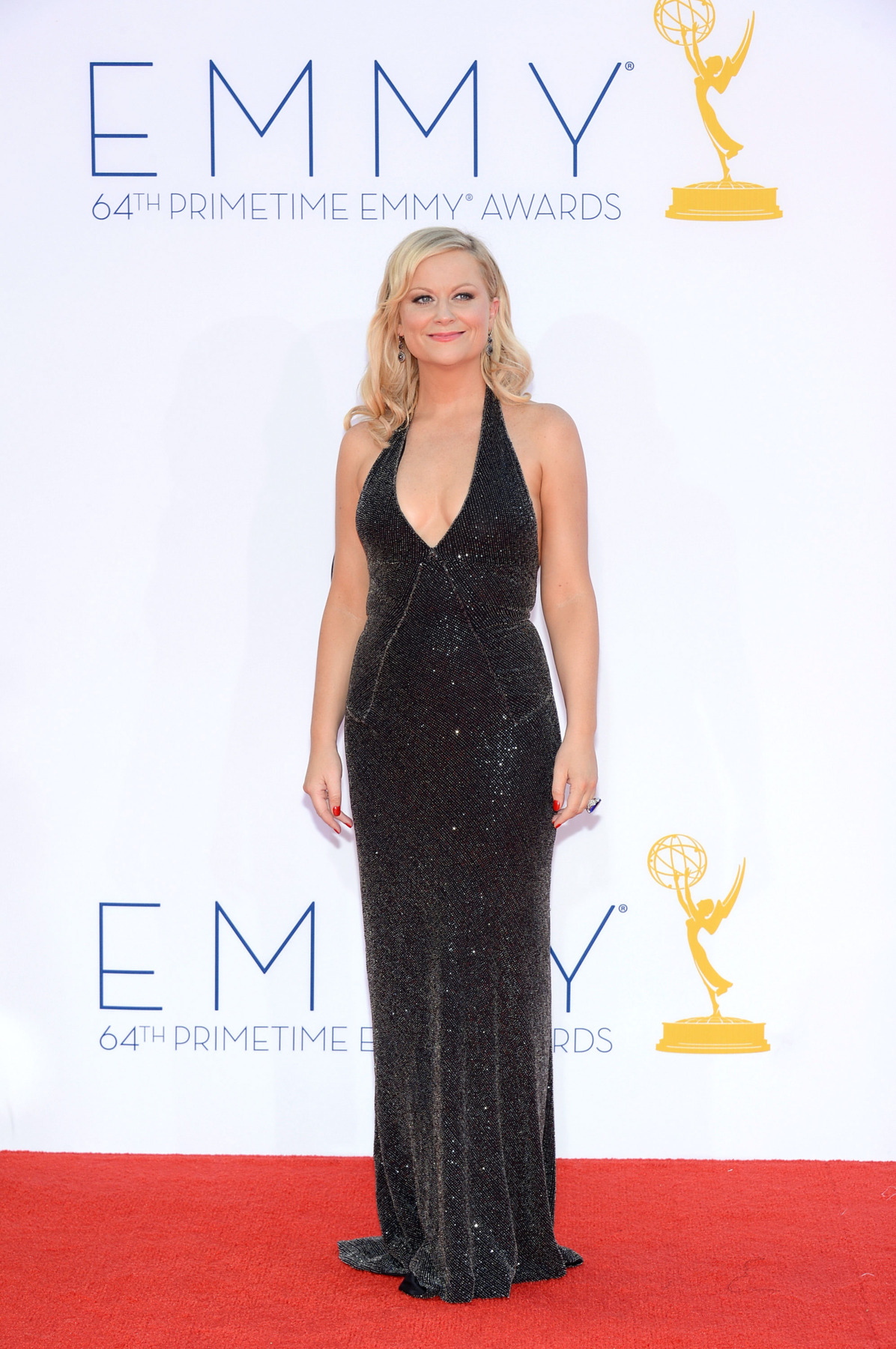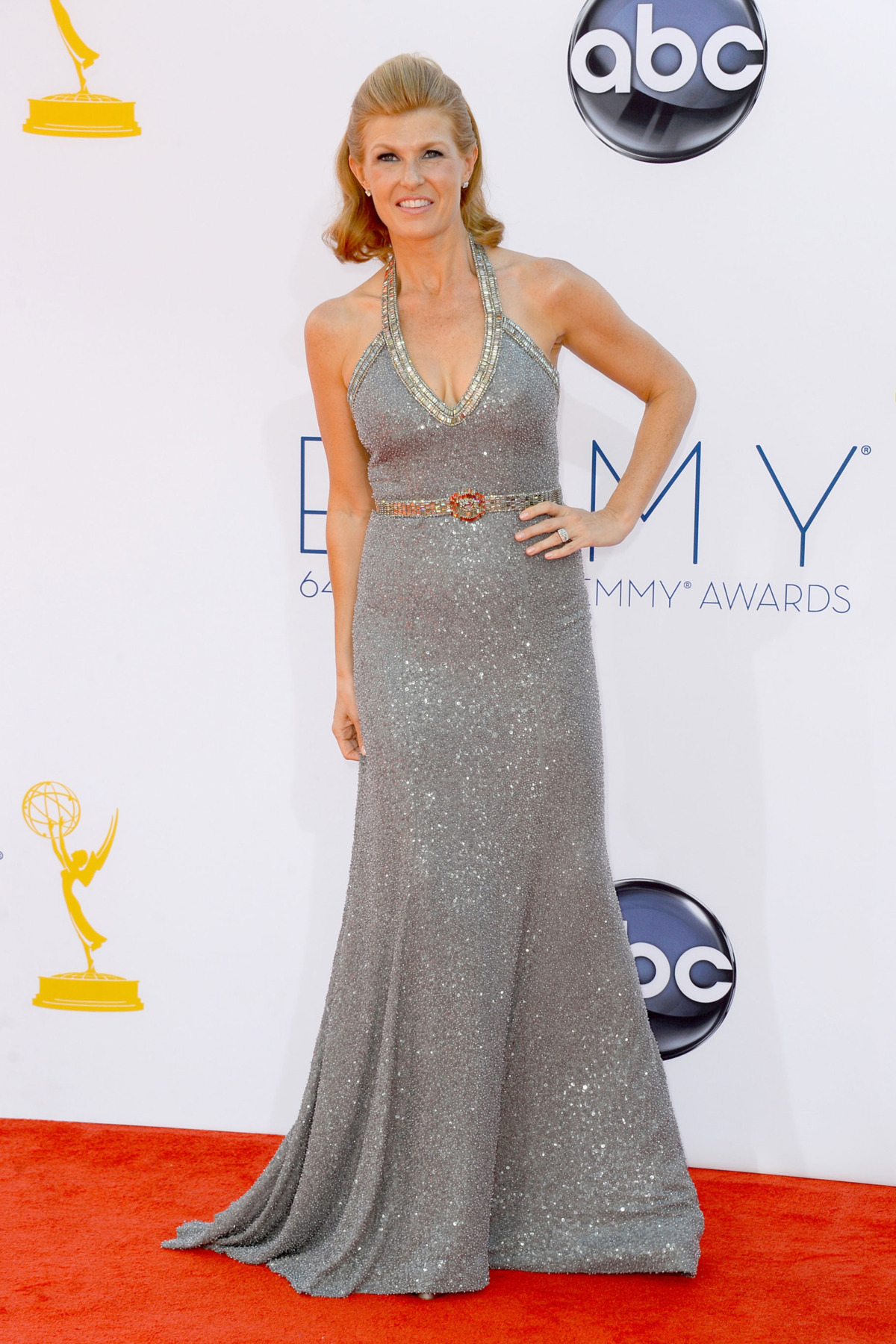 Everyone had something to say about Connie Britton's hair. I don't see anything wrong with it! Not at all! I think the "bump" gives a modern twist to the common 50s bob. The only thing I would have added was a silver bracelet for extra elegance.
Nicole Kidman looked nice. What? She did and that's all I have to say!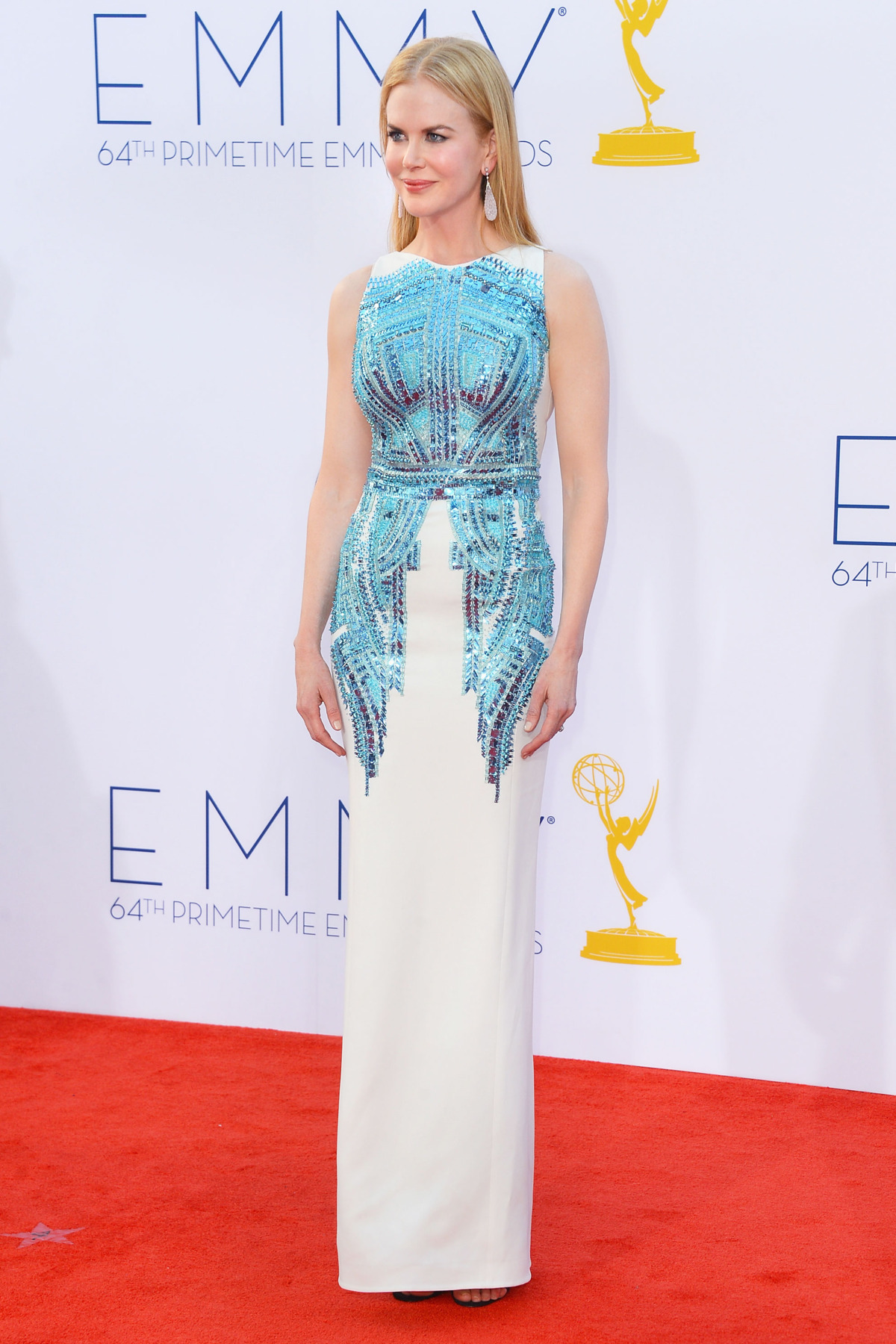 I liked the style of Ashley Judd's gown though I thought it felt a little Bridesmaids-ish. How would I improve this look? Remove the bow halter and tighten the bust, so the bust are pushed up a little more. Remove the brooch and drop the updo to a wavy chin-length bob. A deeper color and better coordinated jewelry/accessories would also have improved this look. However she still looked really beautiful.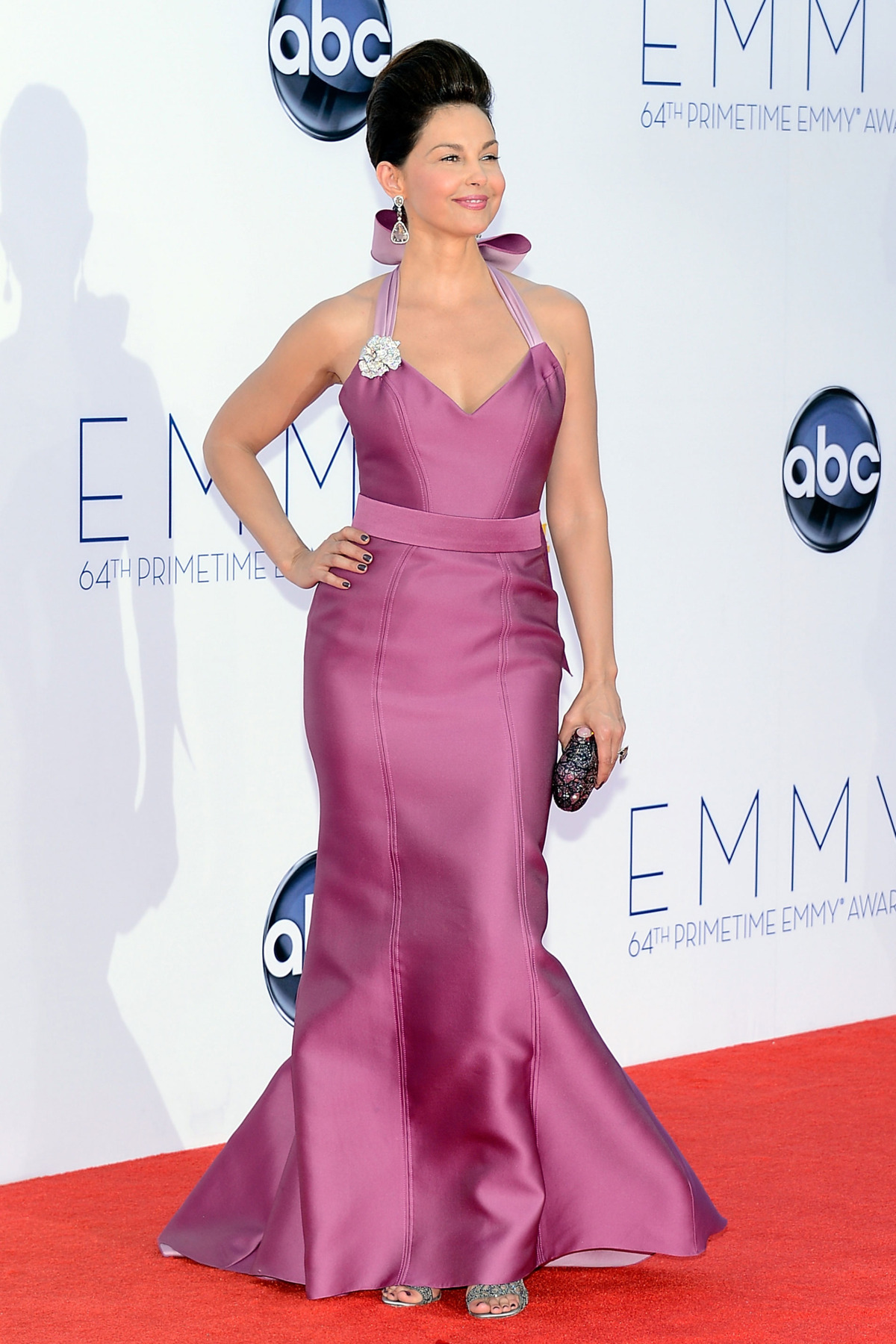 Lucy Liu looked STUNNING!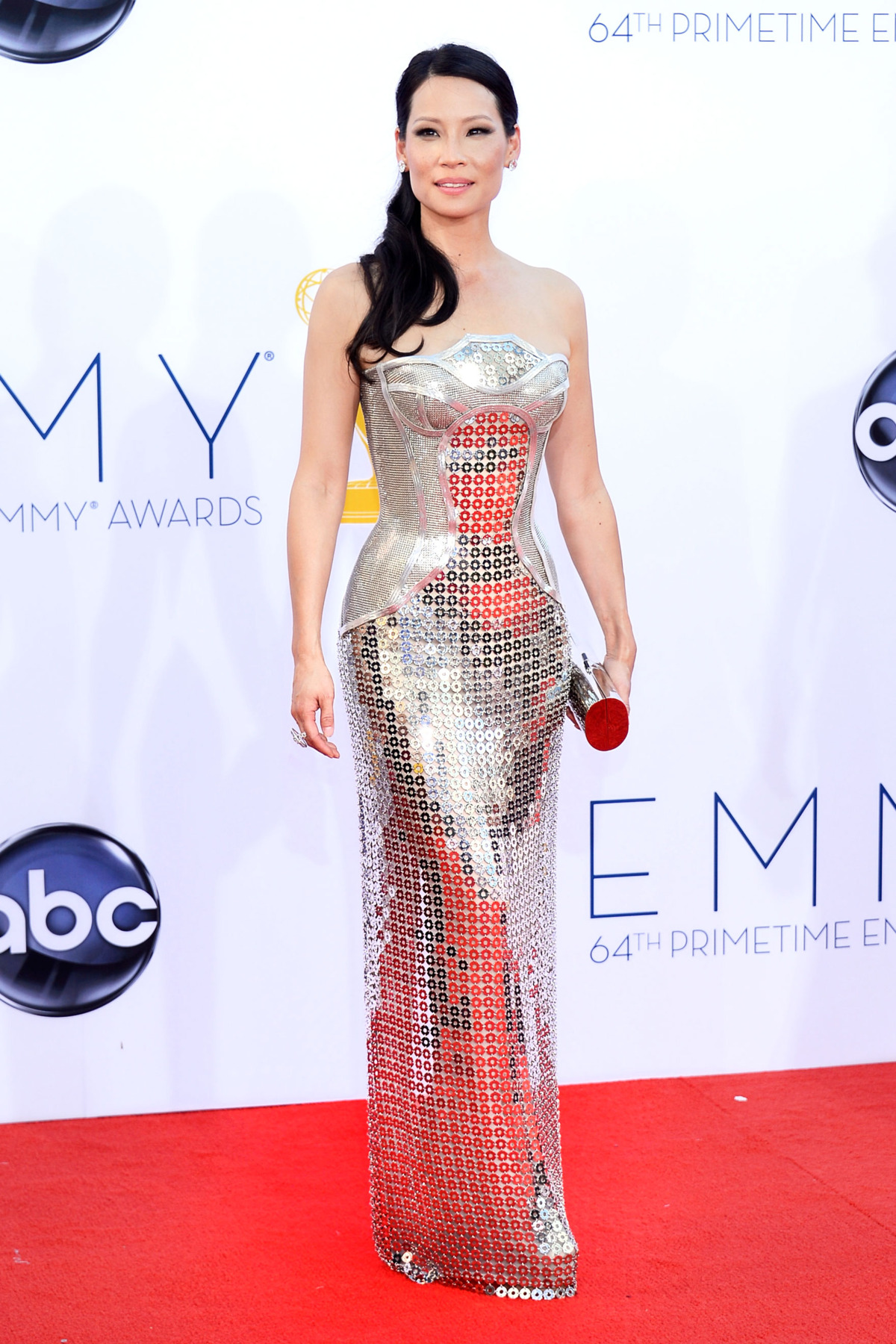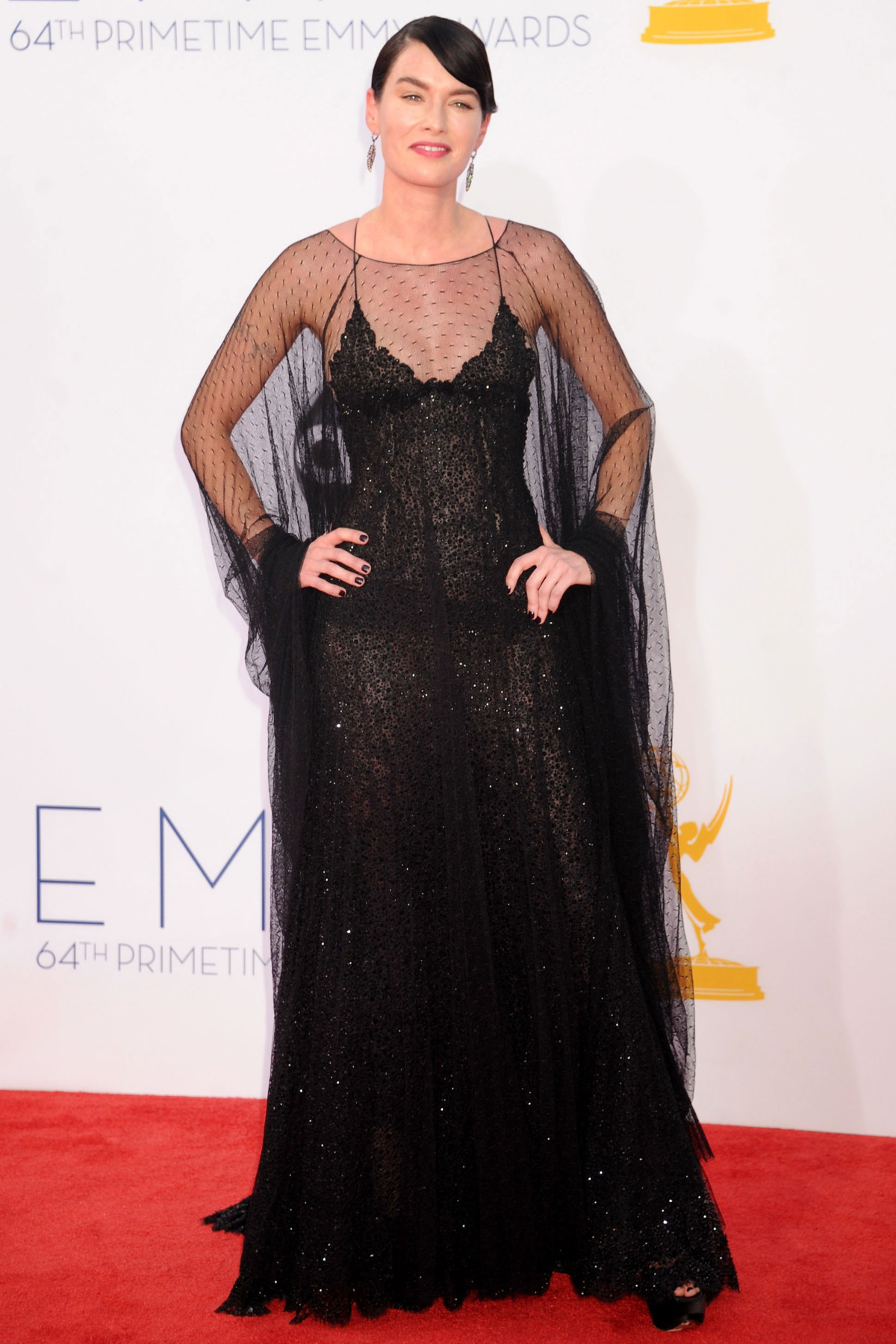 This was not a red carpet favorite for most, and I understand why. It's just a little too much drama for the Emmy's and her body and undergarments being see-through underneath isn't wholly appropriate for the gown.   BUT, she still looks great. How do we fix this for Lena Headey? Either remove the sheer overlayer/cape covering or tailor it to minimize the drama. I would have given the sheer cape sleeves and cut it so that it was a flattering sheath dress over the revealing black beadeddress. Also, a nude fabric layer under the black spaghetti strap dress was needed.

Julia Lewis-Dreyfus looked good. Great shape, great color.
Sofia Vergara looked stunning as well and she has the confidence, height and flirty personality to make this gown work and not look at all cheap or flash
Tina Fey always splits our sides on tv but under performs on the red carpet. This time I was glad to see that she revealed more of her great shape. Still I think she should try a younger color to show that youthful beauty and sense of humor we all know exists!
Julianne Moore. I didn't like this.
Heidi Klum This was cute, but I wanted a better lift for the bust and an updo to elongate this dress.
Hayden Panettiere I think a nude colored fabric would have done better than this cobalt blue.
Padma Lakshmi looks nice.
Guys and Girls:
Jon Hamm and Jennifer Westfeldt
So this isn't perfectly fair because most people don't look good standing next to Jon Hamm. However, it can be done. This lady needed a "Yowza" dress where the details don't get lost in the bright color. A dress that would have made "Don" look like an extra accessory.
Hugh Dancy and Claire Danes. I love the color of her dress and her makeup. I can also see that being pregnant was a concern for her on the red carpet. However, there are many gorgeous styles for pregnant ladies and an empire waist would have been more flattering. Also, a low ponytail draped over the shoulder would have picked up this dress a little more.
Ginnifer Goodwin looks mighty serious in this photograph. The color is nice. I think a strapless gown that hugged her body would have emphasized her natural beauty instead of hiding it beneath this collar, all the design and the asymmetrical voluminous skirt.
Dang Zooey Deschanel looks mad but she looks great in this fanciful gown!
Amanda Peet is disappearing in this gown, but she still looks beautiful.
BAM! Kat Dennings looks great!
Lena Dunham, you already know what's wrong with this. All I'm going to say is: sleeves, waist, and length, and lack of jewelry.
January Jones still looks radiant after having a baby.
I LOVED KELLY OSBOURNE IN THIS LOOK. Here's a lesson to remember. If you have the confidence to do something different, your different will always be awesome. 
I really like Kerry Washington and many people loved her in this gown. But I personally felt underwhelmed. Give me a low side bun, more stunning make up and a corseted top in this fabric and I would be in love with this look.
The enchanting Kate Mara (above)
The hilarious and gorgeous Melissa McCarthy (below)
And lastly,
Julianne Hough. What a fanciful gown. She really makes this work.
So tell me, what did you think of the fashion on the red carpet?
Follow the Gallery of Fashion Art on twitter: @WindsorSparrow
Like us on Facebook at: www.facebook.com/galleryoffashionart